"Sammy Rae and the Friends" Create Music and Community in Seattle
At every Sammy Rae and the Friends concert, lead singer Sammy Rae repeats the "Mantra of the Friends". She sings, "Go put a smile on somebody's face, go tell somebody they've got a place in this world, go tell somebody you wanna be friends with them". What may have sounded like a tired cliché in any other situation struck a chord with myself and everyone else in the audience of the Showbox on November 9th. Simple yet profound expressions of acceptance, love, and joy are paired with incredible vocals, out-of-this-world instrumentation and catchy melodies in the music of Sammy Rae and the Friends. But what truly makes a Sammy Rae concert incomparable to any other is the environment that she and her bandmates have cultivated. Lars Pruitt, lead singer of Yam Haus, the opening band, commented on this, calling the Friends' tour "one of the most safe and affirming spaces to be in". Pruitt went on to prove this by having Sammy Rae pierce his ear on stage, a symbolic rejection of the toxic masculinity that he was trying to let go of. "I pierced my ear in highschool but all the baseball jocks made fun of me, so I let it heal," Pruitt explained. 
An onstage ear piercing wasn't the only unconventional aspect of the concert. There were moments in the set when the entire crowd went silent. Sammy told the audience "It takes a lot of trust to be silent with someone," and there was certainly trust in the Showbox that night. Everything Sammy said on stage was sung, reminiscent of a musical preacher or kindergarten teacher. They slid up and down entire octaves with ease, complimenting each song with phenomenal vocals. 
According to Sammy Rae, the band's music is a mixture of classic rock, folk, and funk, as well as some jazz and soul. Each member contributes a talent and personality that the show would be incomplete without. Though they're the lead singer, Sammy isn't afraid to lend the spotlight to their bandmates, and the performance is all the better because of it. Drummer C-bass Chiriboga lit up the room with a bright smile and epic percussion. Guitarist and vocalist Will Leet played his instrument masterfully, and when he sang his solo verse in "For the Time Being", his clear and powerful falsetto may have momentarily stopped my heart. Piano and all other random instruments were played expertly by Debbie Tjong, and Bassist James Quinlan not only holds the songs together with his beautiful bass lines, but Sammy Rae credits him with encouraging her to begin the band in the first place.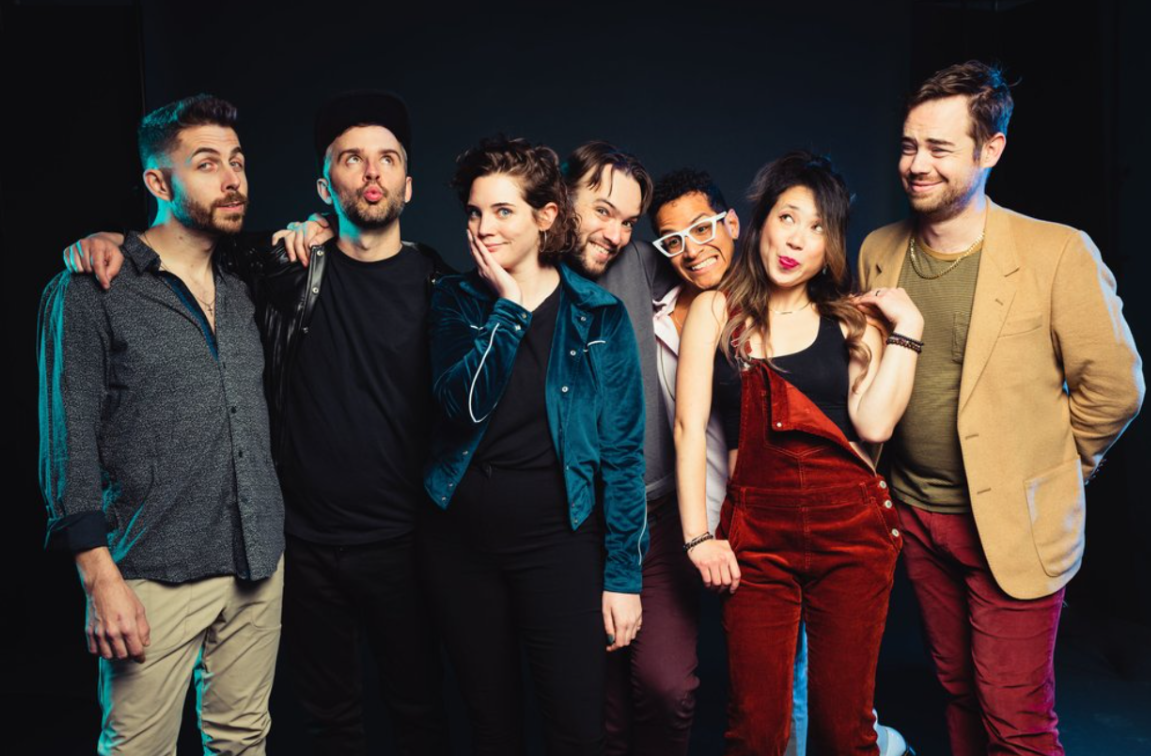 Although I promised myself not to film too much, I couldn't help but record the entirety of "Jackie Onassis", my favorite Friends song. The performance began with a comically large story book and included a classic Jackie O pillbox hat, a cape of ribbons, and the "rose-colored tinted glasses" mentioned in the song's lyrics. The expressive playing and energetic stage presence of sax players Kellon Reese (alto sax) and Max Zooi (tenor sax) elevated the performance to another level. After finishing the song, Sammy Ray proclaimed to an eruption of cheers and applause, "That song was for the girls and the gays".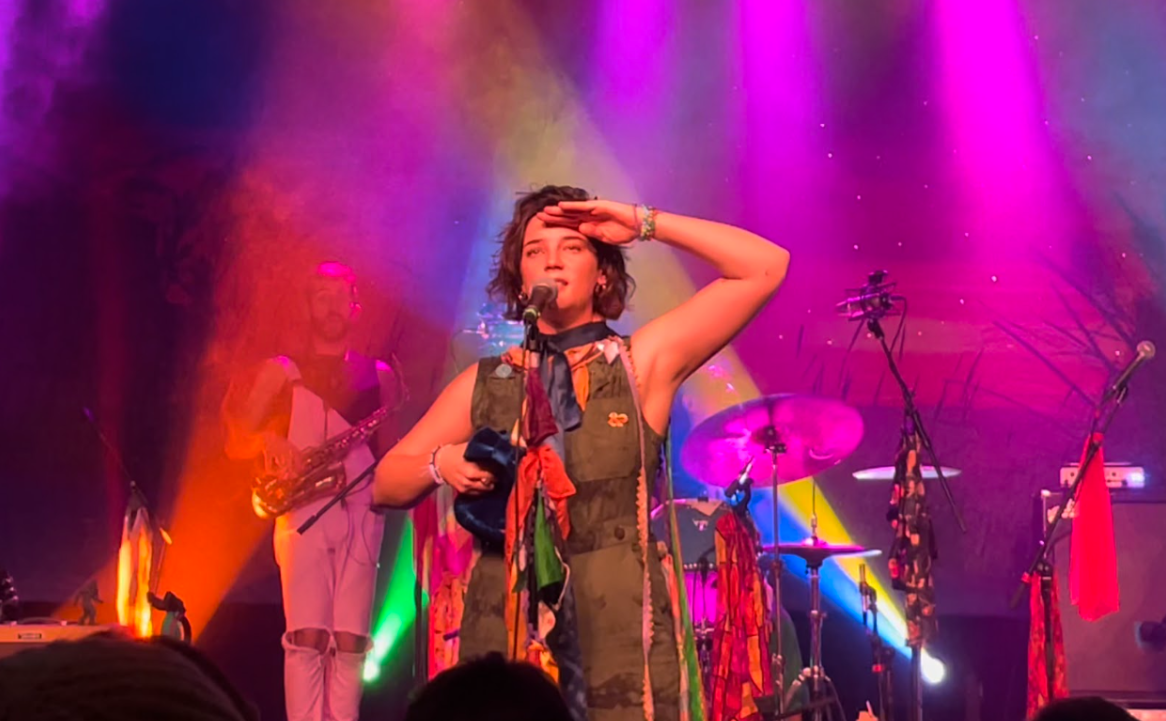 Then came a notable shift in mood for a breathtaking performance of "Flesh and Bone", a song which asks why "we do not love ourselves the way the prophets teach". The lyrics perfectly encapsulated the out-of-body experience that dominates much of our digitized modern world. At the song's end, Sammy implored the audience, "If any of that resonates with you, go vote." The Friends then returned to their usual cheerful and upbeat vibe, concluding with an energetic encore, and a performance of their most popular song "Kick It To Me".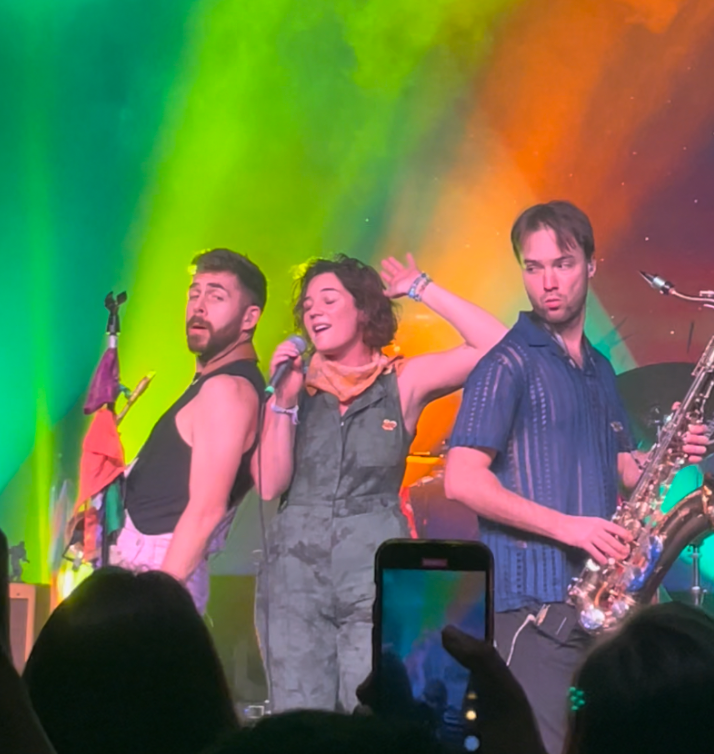 This concert left me with a feeling of euphoria that lasted for days after. Sammy Rae's music somehow connected complete strangers into a community. Next time The Friends are in town, I'll be going again, and as Sammy instructed, I'm bringing more friends with me.
__________________________________________________________________________
Note: Sammy Rae uses she/they pronouns so both have been used in this piece
View Comments (2)