Bothell does Black History Month
Black History Month (BHM) began as just a short week that was established by Carter G. Woodson in February of 1926 to commemorate Black History and celebrate Black achievements. Calling it "Negro History Week" (NHW), Woodson's intentions were to celebrate the Black race and community as a whole instead of focusing on one or two prominent Black historical figures. As NHW gained popularity and national recognition, Woodson and others focused their efforts on encouraging students to learn more Black History. He provided educational resources for students and teachers. Woodson hoped that NHW would serve as an example of what students should learn all year. During the mid 60's, Negro History Week became Black History Month as we know it today.
To celebrate BHM, Bothell featured one notable Black figure every Monday, Thursday, and Friday on the morning announcements, Tuesday on the cougar cast, and weekly on the ASB instagram. Totalling 14 historical Black figures in history, Bothell honored Dr. Charles Drew, Amanda Gorman, A. Phillip Randolph, David Ruggles, Marian Wright Edleman, Claudette Colvin, Marian Anderson, Paul Robeson, John Baxter Taylor Jr., Hiram R. Revels, Jackie Robinson, Mae C. Jemison, Fred Hampton and Ella Baker over the span of February.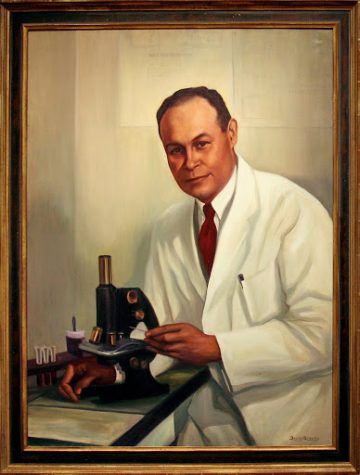 While Bothell's BHM efforts this year were arguably a major success, there was one small hiccup. The first person featured for BHM was Charles Drew (see photo), a surgeon and researcher who made huge contributions in the medical field. Some students noticed that Charles Drew appeared to be white-passing in the photo chosen for the morning announcements. I cannot comment on his appearance in real life but looking at just the photo of him on its own, whether it was due to lighting or something else, he seemed white-passing. Whether or not he was white-passing in person, in the photo shown to students, his physical appearance looked white which was a point of confusion for many students.
In the past, there have been some discrepancies on the exact definition of the white-passing phenomenon, ranging from full on cultural assimilation to solely physical presentation. In my experience, the second definition is more commonly used in today's social climate. By that standard, white-passing is a term used by BIPOC to comment on someone's appearance. It means that just from looking at them, you can't tell that they are a person of color. In the same vein, they most likely enjoy more white privilege than other BIPOC that are not white-passing. Generally speaking, being white-passing or not white-passing is not intentional, it is subjective to the viewer. To one person, someone may be white-passing, and to another they might not be.  The term white-passing has nothing to do with the person themself and their own racial identity. It is entirely based on outward appearance and outside perception in relation to the standard of whiteness. Being perceived as white-passing does not invalidate the individual's racial identity or relationship with their race whatsoever.
That being said, many students of color felt hurt that the first Black person to be featured for BHM was a white-passing person. "Starting it off with someone who doesn't look Black it just seems a little odd. Of all the people that they could put, they started it off with someone that is white-passing… it seemed kind of weird to me" says BSU president, Reagan Ferrell ('21). In the one month dedicated to honoring influential Black people, something that is rarely included in our history textbooks, the first person appeared white-passing. Had they started with someone else and featured Drew later in the month, students would have likely been more content. What subliminal message of prioritizing a white-passing man over another BIPOC that is not white-passing projecting to students of color? "I definitely thought of it as a microaggression," Ferrell says, "it was something that they did without probably thinking that it was bad." Many people don't realize that microaggressions often happen even with good intentions which is why everyone needs to be hyper aware of their relationship with anti-racism work and continue to validate and uplift marginalized voices. Although to be clear, good intentions do not protect students from being hurt nor excuse racist behavior. The damage is already done. We need to be consciously and consistently assessing the impact of our actions and holding ourselves accountable to minimize harm to others. Marlie Davis, Bothell math teacher and BSU advisor, tells me that she didn't even realize that Drew was white-passing at first, "it's on me as a white person, not even registering that that was a red flag, a slap in the face… that again just exposes our ignorance." Although she was already familiar with Drew since she has been incorporating BIPOC historical figures into her lessons all year. At the end of the day, Black students just want to feel seen and celebrated during BHM, Ferrell would like Bothell to "think about how they can better represent [Black people]."
In the future, Davis has a vision of community cultural events placed throughout the school year to celebrate Black culture among many other ethnic cultures. This event could feature ethnic dance groups, different foods, and more. Davis tells me that other districts around the Seattle area are already engaging in events like this! Acknowledging each other's cultures should not be reduced down to a single month. These events can allow us to honor and recognize our ethnic communities year-round as Carter G. Woodson intended.
Learning about Black history does not have to end on March 1st. There are so many other important Black individuals, and people of color, in history that you can spend time learning about! Davis recommends checking out Ida B. Wells (1862), an American activist and journalist. Ferrell nominates Phillis Wheatley (1753), a renowned poet who was also enslaved, Madam C.J. Walker (1867), an inspiring entrepreneur and businesswoman, and finally, Nat King Cole (1919), a beloved singer and jazz pianist. Another great resource is a youtube video titled, What I Wasn't Taught In School, by Word On The Curb, to learn more about Black History that is not recognized in school.
View Comments (1)