Spring Book Reviews
Hi Cougs! I'm going to be reviewing two of the books that I have read over the past month. These books are available in the BHS Library, so if you guys are interested, feel free to check them out!  
It Ends With Us by Colleen Hoover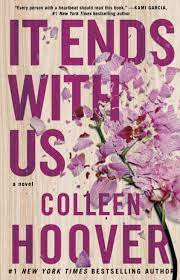 Why did I choose to read this novel? 
I'm not exactly certain as to why I chose to read this book. I was just scrolling through my Tiktok for you page and I randomly came across a video of someone analyzing their favorite quote from the book. Initially, I was a bit confused as to why someone would go do such a thing for fun. But I was intrigued, and I wanted to see what was so special about the book; I wondered if reading this book would make me do the same thing.
What is it about? 
The story is centered around 23-year-old Lily Bloom, who recently graduated from college and moved to Boston. While in Boston, Lilly meets a neurosurgeon named Ryle Kincaid. With the sudden arrival of Lily's long lost love, things turn bad for the pair. The novel goes back and forth between the present (Lily and Ryle) and the past (Lily and Atlas). The story is full of plot twists, a hint of romance and a whole lot of complicated history! 
Trigger Warning: novel contains topics like abuse and SA. 
What do I think about the book? 
The novel goes back and forth between Lily's past and present. The past is shared through Lily's journal entries. Personally for me, the beginning of the book that delves into her past was unnecessary, only because the present seemed more interesting. But as the novel continues, secrets are revealed and new people are introduced, all while keeping the reader engrossed. I loved this book, I think Hoover did a wonderful job writing the story. 
Favorite Quote: "There is no such thing as bad people. We're all just people who sometimes do bad things."
Rating: ★★★★★
The 57 Bus: A True Story of Two Teenagers and the Crime That Changed Their Lives by Dashka Slater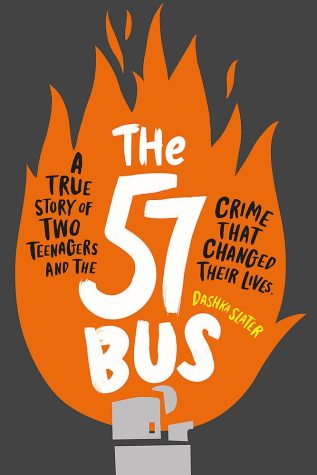 Why did I choose to read this novel? 
I chose to read this novel because a friend recommended it to me. They told me about the novel about a year ago, and I just recently got around to reading it. When I was picking out books in the library, the book's cover stood out to me, and I ended up reading it. 
What is it about? 
The novel is centered around two characters: Sasha and Richard. Sasha is a gender-neutral white teenager who lives in a good neighborhood, goes to a good school, and comes from a well-off background. Richard is a black teenager who comes from the opposite side of town. He goes to an average school, lives in a mediocre neighborhood, and doesn't come from an affluent family. Though Sasha and Richard are from two different worlds, their lives meet on the 57 bus. The story talks about these characters exploring their gender, crime, and racism. 
What do I think about the book?
I genuinely liked this novel. I think Slater did a wonderful job coming up with a story that talked about several important topics. I liked how the author came up with two very different characters, but at the same time they were similar in the aspect that they were minorities. Personally, I prefer more fast paced stories, and this novel seemed slow to me. 
Favorite Quote: "Never let your obstacles become more important than your goals." 
Rating: ★★★★✩
Leave a Comment