Holiday recipes
Mini Cheesecake Cookies – Tori
During the holidays, I always bake cookies with my mom and my grandma. However, I won't be able to see my grandma this season because she lives out of state, and can't fly in to visit due to the virus. This recipe is one she always makes this time of year, and not only does it taste delicious, but the mini cheesecakes look so cute and festive. There's two versions you can make: my grandma's original cherry ones, or a matcha white chocolate one I made by altering her recipe. The base and wafer bottom of the cheesecakes are the same for both flavors, just add the additional flavor for whichever one you'd prefer to make. To make a half batch of both, divide the base in half and add half of the listed flavors, mixing the two types in separate bowls.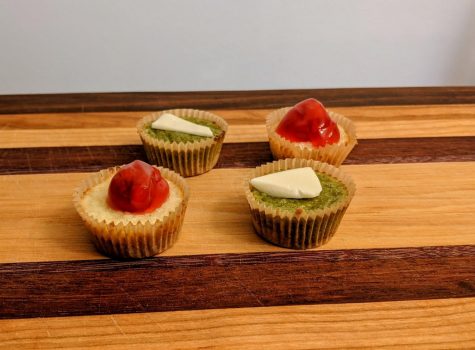 BASE INGREDIENTS
2 8oz packages of cream cheese, room temperature
¾ of a cup of sugar
2 eggs
1 teaspoon of vanilla extract
36-40 vanilla wafers
1-2 tablespoons of butter, melted
ORIGINAL FLAVOR
1 tablespoon of lemon juice
2 teaspoons of vanilla
1 can of cherry pie filling
MATCHA FLAVOR
4-5 teaspoons of matcha powder
Half a bag of white chocolate chips (around 1 cup)
Directions 
Preheat the oven to 350°

At a high speed, beat together the cream cheese, sugar, vanilla, and eggs for five minutes.

If you're making the original flavor, mix in lemon juice and more vanilla, or, if you're making the matcha one, add in the matcha powder. 

Line a mini cupcake/muffin pan with mini paper wrappers. Crush the wafers into crumbs and mix with the melted butter. Place the crumbs into the bottoms of each wrapper and press to ensure that the crumbs stick together.

Put one tablespoon of cream cheese filling into each wrapper, and bake for 15 minutes.

When the cheesecakes are ready, allow them to cool for 5 minutes. For the cherry cheesecakes, top each cookie with a cherry from the pie filling.  If baking the matcha cheesecakes, melt the white chocolate chips in the microwave at 15-20 second increments, mixing after each time, until smooth. Then spread the melted white chocolate out onto parchment paper and refrigerate until cool. Once cooled, break the chocolate into small pieces and place on top of the cheesecakes. 

Store your mini cheesecake cookies in the fridge, and enjoy!
Grandmother's Gingerbread Cookies – Ashlyn
My grandma and I always made these cookies during the holidays. The smell coming from the oven always brought happy thoughts of the holidays. This year my mom and I made them honoring my grandma. I hope some students can enjoy them as much as I do.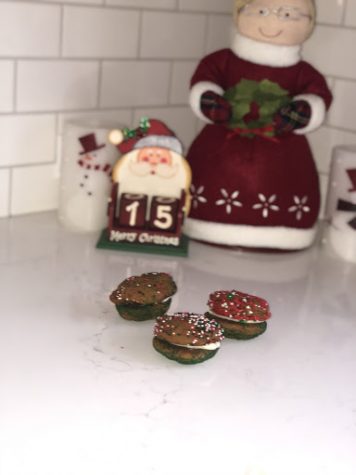 Ingredients: (makes 3 to 4 dozen)
THE COOKIE
1 cup of molasses 
½ cup of light brown sugar
½ cup of granulated sugar 
4 tsp ground ginger
4 tsp cinnamon 
¾ tablespoon baking soda
1 cup unsalted butter at room temperature 
2 large eggs
6 cups sifted flour
ROYAL ICING
1 cup sifted brown sugar 
1 large egg white
Food coloring of choice
Directions:
Place molasses, sugar, ginger, and cinnamon in a double boiler over medium heat. When the sugar has melted, add the baking soda and stir. When the mixture bubbles up remove from heat. Place butter in a large bowl and add the hot molasses mixture. Stir well. Let the mixture cool, then add the eggs, gradually add flour, 1 cup at a time while stirring. Preheat the oven to 325, and bake for 15-20 minutes. Let cool on the cooling rack. Then frost! Enjoy!
Goodmansen Holiday Matzo Roca – Hannah Goodmansen
With every December comes the fact that our family had, the previous spring, purchased too much matzah during Passover and now it was all stale in the box.  With that came the thought to use it in Matzo Roca or Christmas Crack as you may find it named online. It is a super easy recipe and is absolutely delicious with your choice of topping. It also makes an excellent gift for the holidays.
Servings: 35 2-inch squares
Total Time: 1 Hour
INGREDIENTS
4-5 lightly salted matzos or enough saltines to fill a baking sheet
2 sticks (1 cup) unsalted butter
1 cup firmly packed dark brown sugar
1 (12-ounce) bag semi-sweet chocolate chips 
TOPPINGS
1 heaping cup chopped nut of your choice (toasted if desired, for maximum flavor)
1/2 teaspoon sea salt flakes or kosher salt
 1/2 teaspoon crushed peppermint (see topping instructions)
INSTRUCTIONS
Preheat the oven to 350°F. Line a rimmed baking sheet with heavy-duty aluminum foil, making sure the foil goes up and over the edges, and top with a sheet of parchment paper.
Cover the baking sheet with the matzos, cutting and piecing them together as necessary to fill the entire pan.
Prepare your chosen topping by crushing either candy canes or peppermints for the mint, chopping and toasting your chosen nut, or retrieving the salt.
Make the toffee: Combine butter and brown sugar in a medium saucepan. Cook over medium heat, stirring constantly with a whisk, until the mixture comes to a boil. (If it looks like it's separating, just keep stirring; it will come together.) Once the mixture comes to a boil, continue cooking and stirring for another 3 minutes until foamy and thickened. (Be extra careful — the toffee will be very hot!) Immediately pour the toffee over the matzos and, using a spatula, spread into an even layer.
Put the pan into the oven and bake for 8 to 10 minutes, or until the toffee topping is crackled and bubbling all over. Remove the pan from the oven and place on wire cooling rack on the counter. Immediately scatter the chocolate chips evenly over top. Wait 3 to 5 minutes for the chips to soften, then use an offset spatula to spread the chocolate into an even layer add your chosen topping. Refrigerate until the chocolate is firm, about 45 minutes. Don't leave it in the fridge too much longer, otherwise it will be hard to cut.
Lift the foil overhang to transfer the matzo roca onto a large cutting board. Using a large sharp knife, cut into 2-inch squares. Store in an airtight container in the fridge and serve cold.
Freezer-Friendly Instructions: The toffee can be frozen for up to 3 months: Place the toffee in an airtight container. It can be eaten directly from the freezer or, if you'd like, remove the toffee from the container and let it come to room temperature.