Like many other Americans, I counted down the days until Girl Scouts set up stands to sell their delicious one-of-a-kind cookies. I showed up bright and early on March 5th, the first day of selling in Bothell, to make sure I could stock up on boxes before they sold out. My love for Girl Scout cookies set me on a mission: find out what the most popular flavor is once and for all. According to Girl Scouts of the USA, Thin Mints are the most popular followed by Samoas and Tagalongs. Surveying over 50 BHS students proved that this ranking is spot on… at least among cougars.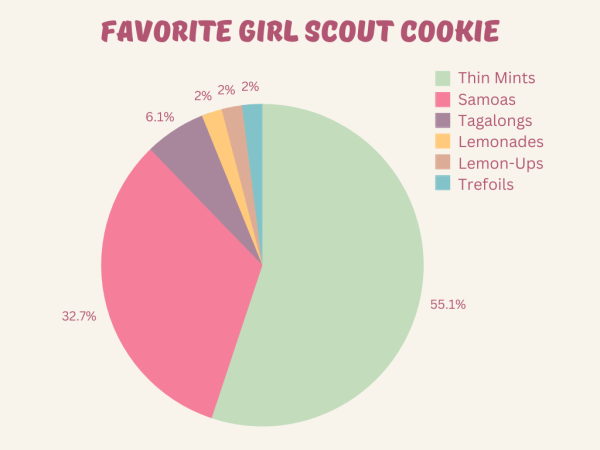 Thin Mints are by far the most loved with 27 students declaring them a favorite. Many people recommend freezing them because it amplifies the "cool" mint flavor. Delish named them the most popular flavor in Washington State, so it's no wonder they are a hit at BHS. Samoas—those coconut caramel cookies with a chocolate drizzle—came in second. If you can't decide which cookie to have, one student suggests sandwiching a Samoa between two Thin Mints for the best of both worlds! In third place comes one of my personal favorites, the Tagalong (or Peanut Butter Patty). The smooth chocolate, creamy peanut butter, and crumbly shortbread cookie complement each other perfectly and leave you feeling completely satisfied.
Lemonades, Lemon-Ups, and Trefoils (shortbread) only received one vote each. Surprisingly, the new cookie for 2023 called Raspberry Rally got no appreciation. It is marketed as Thin Mints' "sister" cookie, which is promising, but I haven't had the chance to taste it myself.
With a total of 13 flavors this year, the Girl Scouts have something for everyone. You can feel good about buying a box of tasty cookies because they fund experiences that help girls develop life skills, learn to adventure, and grow into strong, passionate women. Mark your calendars for March next year so that you don't miss out!