Virtual Pride 2021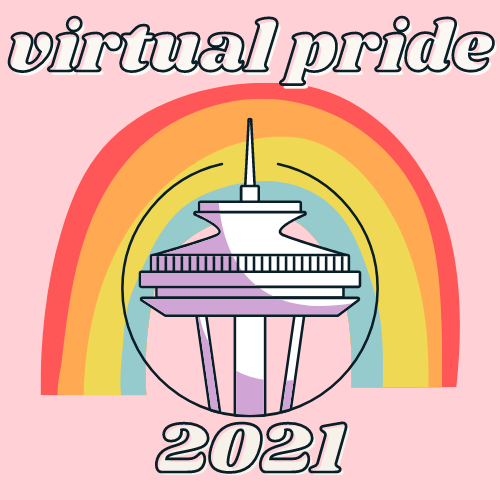 Welcome to June, everybody! Tis the season for rainbows! The weather is warmer, the days are longer, and most importantly . . . it's Pride Month! And though the festivities and decorations might be a little toned-down this year, Pride definitely won't be!
Just like last year, Pride 2021 will be held online. This year's organisers have said they have lots of fun and exciting things in store for the program this year. 
"It's not going to be boring," says Seattle Pride executive director Krystal Marx (she/her) to the Seattle Times. "This is going to be something you have to strap in for." 
The event will be on June 26th & 27th from 11 a.m. to 5 p.m. PT. The main platform is through Hopin, but will act like a "choose-your-own-adventure game." Attendees can pick and choose which events they want to participate in through the scheduling stages. (See here for the program schedule!). The weekend is said to be "jam-packed with performances, game shows, and educational and activism-focused speakers and panels," with "virtual booths to connect with local non-profits and vendors and community gathering/discussion groups." All attendees are welcome and encouraged to participate whether your camera is on or off. Registration is free and can be found on Seattle Pride's website.
"Quite frankly, it's going to be a hell of a lot of fun," writes Seattle's Pride team. "The two days of fun and entertainment will feature a diverse array of speakers, performers, activities, and activism." The event will include performances by both national and local LGBTQIA+ artists, and American rapper, Big Freedia—the Queen of Bounce music—is headlining. Other featured artists include Mary Lambert, Perfume Genius, mxmtoon, DJ dark_wiley, Simone Pin, and the Seattle Ladies Choir. 
In-between performances will be other various scheduled activities. On Saturday, depending on which stage you attend, there will be storytimes, games, and many pre-recorded sessions from speakers and LGBTQIA+ organisations. Sunday's activities include a morning kids' program, drag performances, and live panels, and on the second stage will be four re-broadcasted sets of Seattle Pride's Pride Speaks! speaker series covering a range of LGBTQIA+ topics including homelessness, healthcare, business, and youth/parenting.
Pride 2021 is also hosting a series of LGBTQIA+ owned vendors. This year, the team is partnering with Savory Seattle—a local gift box company that creates and delivers local products—to offer the Seattle Pride Box! The box is crafted with produce from local queer-owned businesses, and all purchases go directly to Pride. The box includes coffees, teas, and many sweet and savoury treats. 
Lastly, to get into the spirit of Pride, Seattle Pride is building this year's theme and celebration around resilience. 
"Pride is often associated with parades, parties, and rainbows," the Pride team writes, "and while we love all of that stuff, Pride has a deeper significance and it's why we celebrate!"
To show that Pride truly comes from within, Seattle Pride has partnered with c89.5 radio—a dance music station operated by Nathan Hale HS—to hear from folks about what Pride means to them. They're asking the community to share their thoughts and feelings, and those recordings will be aired throughout the month of June.
"'Pride is a chance to be anyone I want to be. I'm not just me during Pride weekend, but super-me wearing a rainbow cape.'" says team assistant Tim Marshall (he/him).
Seattle Pride is also asking for the community's stories about resilience. They will be highlighting the stories through social media and other Pride events. 
Another way to get in the Pride spirit is to smile! Seattle Pride is also partnering with WA Delta Dental to create the Instagram hashtag challenge #SmileWithPride. Users can tag both parties under the hashtag and be entered to win two (2) Sounders tickets!
So hey! Grab your flags and your friends and check out Seattle's 2021 Virtual Pride!
A note from Seattle Pride: All personal stories will be handled with care and courtesy. More information on Seattle's 2021 Virtual Pride can be found here. (https://www.seattlepride.org/) 
View Comments(1)