Criminal Minds Review
Criminal Minds first aired on CBS in fall 2005, and it follows a team of FBI profilers who psychoanalyze criminals and their behaviour in order to catch them. The show ran for 15 seasons, sadly ending in February of 2020. The core team of the BAU (Behavioral Analysis Unit) included Jason Gideon (Mandy Patinkin)—unit founder and best profiler around, Aaron Hotchner (Thomas Gibson)—the unit chief and 'dad' of the team, Dr. Spencer Reid (Matthew Gray Gubler)—the quirky-but-loveable genius with an eidetic memory, Derek Morgan (Shemar Moore)—the brawn and overall hunk, Emily Prentiss (Paget Brewster)—a fierce linguistics specialist with a passion for kicking butt, JJ Jareau (A.J. Cook)—the media liaison, Penelope Garcia (Kirsten Vangsness)—the zany technical analyst, and David Rossi (Joe Mantegna)—unit founder and witty 'grandfather' of the team.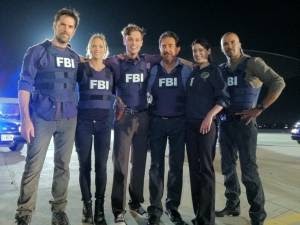 Throughout the show, many snippets of information or developments in the characters and their lives were brought up but rarely became fully-fledged topics. Like Dr. Reid's drug addiction that was introduced in season 2, when he was kidnapped by Tobias Hankel (James Van Der Beek) who had repeatedly injected Reid with Dilaudid (a hallucinogenic). Due to being injected with it multiple times, Reid found that it eased his pain and craved more; at the end of the episode, Reid steals the bottles of Dilaudid off of Tobias Hankel's dead body. In a few episodes after that Reid was shown being agitated and jumpy, and almost injected himself with drugs in a bathroom while on a case. After that the addiction wasn't mentioned until later in season 3 where he was attending an AA meeting for FBI agents, Police officers, and first responders who were addicts, claiming he was 10 months sober. What?!
Viewers of Criminal Minds rarely got a look into the lives of the BAU team members outside of work, and even less did we see what they were doing before they joined the FBI. The only look we got into the characters was the occasional single episode about their families and pasts. Hotch was obviously the most developed character from the fact that he was likely considered the main character until his exit after season 10. We had many looks into his life with his wife and son and then his relationships after she had been murdered. Reid probably came in second with the amount of his outside life shown to viewers as there were many episodes involving his schizophrenic and Alzheimer's-ridden mother, and then there was the case of his being imprisoned in season 11. There were a couple peeks into other characters, like with JJ; she probably came in third with the many mentions of her sister who committed suicide, and then the multiple times her kids and husband were on the show. The rest of the team really only got their one or two individual episodes, and before any of them joined the FBI is mostly a mystery. Reid was getting all of his degrees and PhDs probably, Garcia was a hacktivist (hacker activist) and Prentiss—who came in after Elle Greenaway's (Lola Glaudini) exit mid-season two—was working undercover. 
Unsubs are what gives the show its flavour and diversity. Without them, there would be nothing for the team to solve. An Unsub (short for unidentified subject) is the villain of the story. They're the people who give the viewers chills down their spine. Unsubs kill or torture their victims for a variety of reasons, whether it be for revenge, pleasure, unravelling stability, or just plain psychosis. Whatever the prompt, these unsubs make-or-break the story, so here are a few good ones:
George Foyet (C. Thomas Howell) was arguably one of the most memorable unsubs of the show. Also known as The Reaper, this zodiac-based villain was a narcissistic mutilator, who was both a serial and spree killer. In Season 4, the BAU tracked down Foyet, who had disguised himself as a Reaper victim by stabbing himself several times to evade detection. He was arrested, but quickly escaped, and he stalked Hotch for revenge. In the season 5 premiere, Foyet attacked Hotch, stabbing him 9 times before driving him to the hospital with one of his signatures (a stylistic marker unique to an unsub). Foyet continues to keep extensive tabs on the team before going after Hotch's wife, Haley, and young son, Jack, where he kills Haley before Hotch tracks him down and beats him to death.
Peter Lewis (Bohdi Elfman) is the real name behind Mr Scratch – one of the longest unsubs on the show. He first appeared in Season 10, reappeared in Season 11, and made two more plot appearances in seasons 12 and 13. His first murders were done through severe hypnosis, and his later crimes evolved to brainwashing and psychological replacement. He stalked and antagonised the team, going as far as to work with Cat Adams in Reid's prison plotline later in Season 12. Mr Scratch was the reason Hotch left the BAU in early Season 12, to protect himself and his team.
Cat Adams (Aubrey Plaza) is another popular unsub. We first meet Cat in Season 11, when she and Reid meet in relation to her crimes as a hitwoman for an online network. Cat is a narcissistic serial killer and hitwoman who likes to play mind games with people. Cat is arrested after her confrontation with Reid, only to reappear in Season 12, as the mastermind behind framing Reid for drug smuggling and murder, having held a very strong vendetta against him. She makes a final appearance in Season 15 to try and get back at Reid again but is unsuccessful.
Last but not least, Frank Breitkopf (Keith Carradine) was an unsub from the season 2 two-part finale. Frank is first introduced mid-season, in a diner standoff with Gideon after being finally being tracked down for his near-two-hundred murders. He's obsessed with Jane – his 'lover' who survived when he tried to murder her thirty years back. Frank and Jane escape at the end of the episode, only to return during the season finale. Jane, having had enough of Frank, has run away to the BAU. Frank is desperate to get her back, antagonising Gideon and killing his girlfriend before the team stages an elaborate trap to arrest Frank again. Frank, however, evades arrest and professes his love to Jane before the two of them jump onto the train tracks of the station, where they are promptly killed by an upcoming train. The incident psychologically scarred Gideon so much he abruptly resigned from the BAU the following season.
Crime is the true nature of this show – it's literally in the title! But while the team is busy solving these cases, we're busy witnessing them. Throughout the show, we watch every single murder go down, including all the gory details that go along with them. Now when we say 'gory details' we really mean the details that they hint at. They don't actually show a lot of the gruesome murder scenes that people think. Most of it happens off-camera before it pans back to show the aftermath. And usually, only the 'easy' injuries are shown. Cuts, broken bones, or bullet wounds are usually the only things we see on victims. Burnt bodies or extremely gory scenes are left to the imagination. If you're not a fan of violence, then the things they do depict might ward you off from the show, but for those of us avid-crime fans, you might be wishing they showed more of the details. While the creators did their best to bring some realism into the show, a lot of it looked fake – which is fine for a Tv show – but it's just a little disappointing. You can notice it when the blood colouring doesn't look quite right, or the injuries don't exactly line up with the murder or how they should look in real life. 
The other aspect of the violence is that it's not necessarily scary. Almost 60% of survey responses said it was 'just eh'. Most of the scariness doesn't come from physical violence, it's more psychologically disturbing. The Criminal Minds Netflix bio even says "Getting into murderers' heads can also get into yours". In all honesty, the show is really creepy – not in the 'spiders or snakes' kind of way but the oh-my-god-I-will-never-sleep-again-ever kind of way. You almost need a warning label like 'caution: do not watch alone in the dark after 10 p.m. Criminal Minds is a show of mind games, and yours is no exception. If you're a fan of things like that, we recommend "The Lesson" (Season 8, Episode 10) features a post-comatose psychopath who abducts people and dislocates their joins to turn them into real-life marionettes, or "North Mammon" (Season 2, Episode 7) where three girls are forced to kill one of them so two can make it out alive. 
Like any good show, viewers are often frustrated but overlook all those things to focus on the joy that a show brings. Criminal Minds brought enough joy to its viewers that it was able to have aired for 15 years straight. Many Gen Z-ers began watching it over quarantine (it is a great show for binge-watching), and it was reported that Netflix subscribers spent 590 million hours watching the show. However, it might not be over yet. There have been rumors floating around that Paramount+ may be working on a revival. At first, when I saw videos about a possible 16th season on TikTok, I thought it was fake like all the announcements of a 9th season of The Vampire Diaries, but with a quick Google search, you will find a plethora of articles on the topic. According to a recent article from popculture.com that was published the night of March 1st, "Paramount+ confirmed a Criminal Minds revival would be among the original programming available on the new streaming platform." While lots is still a mystery to the public, Paramount+ has said that the revival will be about a single case being investigated over a 10-episode course—quite the change from the usual new case every episode type of deal the original show had. Paramount+ will also be releasing a show called The Real Criminal Minds that features a real-life former FBI profiler who presents the actors with cases they might take on if they were real profilers. 
With all of those lovely thoughts now in your head, clear your schedule and take some time to binge-watch all fifteen seasons. Criminal Minds has everything you're looking for in a new show: murder, psychological terror, and a fierce-but-goofy friendship between the members of the BAU. Happy viewing!
Leave a Comment