Science Olympiad Fighting Through Quarantine
COVID-19 has stopped Bothell High school's students from going to school, but it hasn't stopped the school's Science Olympiad team from competing. COVID-19 has, however, raised some issues for the Bothell team by forcing them to train in quarantine as well as changing the competitions from in-person to online. 
The members of the Science Olympiad team have been training at home since the start of quarantine, which coach Mrs. Guard described as, "exceptionally challenging". For training during quarantine Mrs Guard said the team, "must work closely with partners on science topics that often require building devices, testing chemicals or other experimentation and often long sessions of one-on-one discussion time." The team members have also noticed a difference in training as Junior Roshan Skariah ('22) sees training during quarantine is, "a bit more relaxed. With that said it is easier to fall off track, but at home it is all up to you." Skariah said that it was nice because you could pick your own schedule, but that leaves room for procrastination. He also said, "My event partners help keep me on track and it's still fun learning about the stuff that interests you."  
COVID-19 has also completely changed how the Science Olympiad competitions are done. Before COVID-19, Science Olympiad competed in person with handwritten tests as well as hands-on building. Now, most of these events have been converted into online tests or simulations and some have even been dropped altogether. The competitors have to sign up for an event time and take a test or run a simulation with their screens monitored the entire time. One Science Olympiad member said, "the events were harder online because unlike in-person tests partners can't communicate with each other." 
The move to online practice and competitions hasn't seemed to phase the team, however as Mrs. Guard said, "I am fortunate to have a strong group of captains this year that are working hard to create clever ways to build team bonds and connections. I am pleased with their focus, continued motivation, and desire." Last month, the Bothell Science Olympiad's A team finished 25th out of 200 in the BEARSO Science Olympiad competition while finishing in the top 3 in 2 of the 23 events. They are looking to continue their momentum in their next competition on December 12th.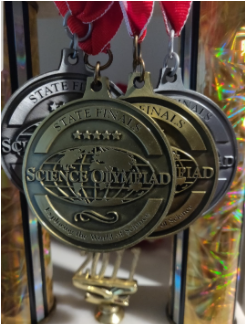 View Comments (1)