Are academics and athletics at odds?
Hear from some Bothell students on how they keep both disciplines in check.
For decades, high school sports and academics have been closely associated with each other. From football to swim to even badminton, there are nearly 8 million student athletes who compete in a sport each year while attending high school.
There have been many studies of the effects of sports on students. A study conducted by Kansas University in 2014 found that "Involvement in interscholastic sports has a positive impact on high school students."
The balance needed between both helps develop skills in efficient time management, accountability, and teamwork, which can be used in school as well. The only struggle is finding the balance.
We talked to two of Bothell High School's successful student athletes, Faith Brooks ('19) and Leon Johnson ('19), in order to see how they achieve the balance.
Faith is a varsity volleyball player as well as a honor student taking several advanced classes. When asked if there are difficulties for student athletes to balance both she quickly responded with " yes, it can be difficult especially when you're in advanced classes and having matches 2-3 times a week."
As a result, she is forced to "lose a lot of sleep and make use of every minute" in order to stay successful. However, even through the difficulties, she is motivated to keep trying her best, which has been very rewarding.
Faith was recently awarded with the AAU All American. The AAU, which is awarded to only the top 1-2% of students (200/80,000), is a showcase of her hard work paying off.
Next, we sat down with Leon Johnson, a football player who is also academically successful. Leon, when asked which he favors, school or sports, responded almost automatically with school. He said " we are student athletes. Even in the title student comes before athlete."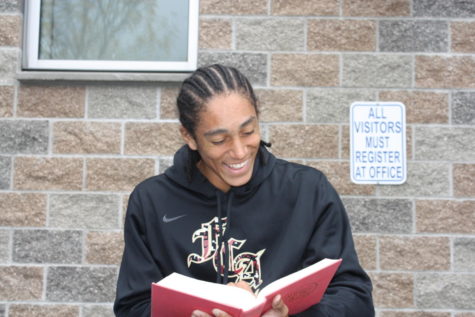 He followed it up by saying he would like to go to college for academics, which requires an emphasis on his schoolwork. In order to be successful in both disciplines, Leon continuously has supporters helping him to stay motivated.
His main motivators are his parents. Leon says his mother puts more pressure on school as she was always a high achiever and wants the same for him. His dad, however, is more for Leon's athletic life, as he was an All American, and always encourages him to excel and try his best.
Many of us find it hard to do both school and sports. As we work hard and do our best to complete our schoolwork and gain an education while participating in sports, like Leon and Faith, we will find ourselves able to achieve almost anything.