Stepping Into Sound: Dianne Lee-Agpalo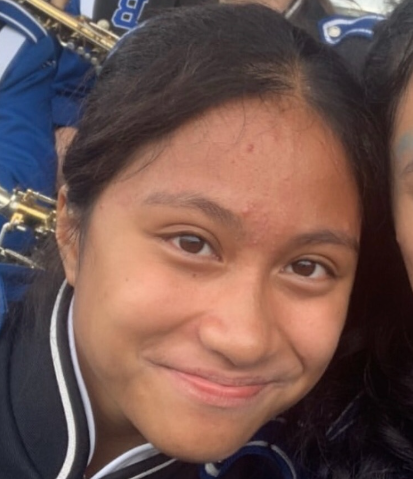 Music, in all forms, is something that is constantly present in the lives of many Bothell High students. Here at BHS, there are many talented young musicians with a driving passion for all forms of musical art. It's a skill that, like most things, takes patience and time, and I don't believe I have ever met a student who shows more persistence than Dianne Lee-Agpalo ('25), one of the newest members of the band community. Dianne is a sophomore and enrolled in BHS' symphonic band just this year! Unlike most of her peers, who have been playing for many more years, she is a fresh face among the array of seasoned musicians. 
Dianne's journey into music has certainly been less than a smooth ride. She originally had intentions to participate in fifth grade band, but circumstances prevented her from joining – and they never seemed to let up.  Covid-19 hit hard in middle school, further hindering her aspirations. While talking to Dianne, she explains that her timid nature also made it difficult to actively participate in other activities: "I was incredibly shy in fifth grade and never had confidence to join any clubs or activities."
Last year, however, Dianne was on the yearbook photography team, and having friends that were already involved in a part of band already gave her a lot of opportunities to photograph and document events with the band. Just getting to be around them and take in the dynamic and energy that surrounded them inspired her further. The final straw for her was watching the BHS Marching Band from the 2021-22 school year. "They looked cool while playing," she recollects, "and I wanted to be just as cool myself…Marching band pushed me to ask, 'Can I join [the] band?'" – and truly, she asked that very question to band director, Phillip Dean. 
But, with every passion, you've always got to start somewhere. Lee Agpalo admits "I am naturally hard on myself, and I guess [that's] because I was five years late to joining band. In the first few months, I felt like I was walking on eggshells because of the level I was on compared to my classmates. I realized that even with hours upon hours of practice, I could never seem to learn the music as fast as them, play as well as them, or could never catch up to them because they were years ahead of me. Whenever we would play… I was viciously self-conscious of how I played, especially because I know the music program is very competitive and, going into it, how easily someone could say something and judge me because of how new I was at this …being pushed into such a high-standard environment with such little experience terrified me, and now, nearly a year later, still does."
Dianne's first and most recent band concert gave her a chance to reflect on all the progress she has made. It was a little rough during the performance, but she found a compassionate community that supported her immensely afterwards. "Even with all the competition, I didn't fully realize how much of a family band was until after the concert," she says. "I didn't know that many people would comfort me. Especially including the people I only talked to during marching band season"(Dianne Lee-Agpalo 25').
Band isn't something to take lightly. This activity becomes a part of you once you find that musical bone in your body. It's a place to discover new things about yourself. (Personally, I have discovered a love for music that I never knew existed and that I have a sarcastic sense of humor.) With Mr. Dean as director, every day brings something new and oftentimes, hilarious. As Dianne put it, his "tough love" for his students pushes them to always perform their best.  
"I can't say much by being a musician with such little time under my belt, but being a musician is hard; it's a mental and physical rollercoaster per say," says Dianne, but that shouldn't squander anyone's dreams of creating music (Dianne Lee-Agpalo 25'). Music is a long game that is filled with its ups and downs. For anyone even slightly thinking about joining one of the amazing performing arts programs at BHS, even if it's just the smallest of impulses, you should absolutely go for it. Don't ever say it's too late to start. Dianne's story shows that it is entirely possible if you put in the time and have the drive to achieve your goals. "I'm just proud of myself because. band is a very demanding aspect in my life, and probably for others too. You have to put in the practice, time, money, and passion. It's hard, but I don't think I'll ever regret this choice of a lifetime." Who knows? Maybe someone reading this will be inspired to give music a shot. To that person, I look forward to seeing you on the stage in the future.
View Comments (2)