National French Week at BHS
National French Week is recognized in the United States annually from the 3rd to 9th of November; this year Bothell High School's French department is doing several activities to celebrate the week. They're hanging up posters, making cut-outs to decorate the school, and filling the display cabinet in front of the library with gems such as two paintings made by BHS students.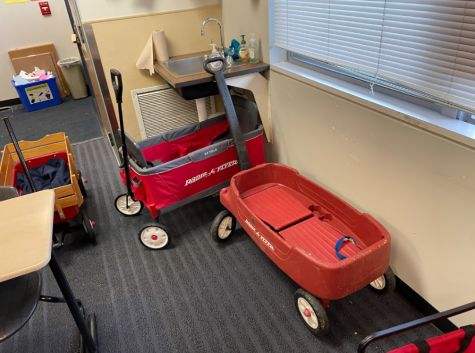 Those with a watchful eye may have noticed students manically racing around campus, pushing and pulling shopping carts, wagons, tricycles, and other assorted wheels. Those races were Bothell's Tour de France, the participants students of the French classes at BHS. The racetrack of the Tour led from the track, down to the courtyard, all the way back to the 100 building. The competition was intense, and those competing knew what they were racing for- glory, bragging rights, and shiny medals. All involved were left exhilarated and exhausted.
A few of our Bothell cougars are personally connected to France through their heritage. Firstly being Ms. Freemantle, an English teacher at BHS. Ms. Fremantle learnt French because of her grandmother. "It was very important to her that we keep our French heritage… she spoke French to us, and she read us books every morning, and I learned French nursery rhymes, and I actually learned French before English," says Ms. Freemantle. When Ms. Freemantle's grandmother was around, French became her household language. 
Ms. Freemantle's father was a professor who spoke many languages, and her mother spoke several languages as well. Growing up surrounded by languages, Ms. Freemantle learned and noticed several things. She describes how when her uncle spoke in French, "he had a different personality. It was the weirdest thing. And when we talked in English, he was different." She noticed how speaking French helped her with English and school as a result of the amount of French present in the English language. Ms. Freemantle developed a love for the differences between the conception of ideas between languages. One of Ms. Freemantle's favorite examples of the latter is the Danish and Norwegian word hygge, a word with no direct English translation, that means comfortable and content and cozy, especially in the context of the colder months later in the year. 
A student at Bothell, Paul Griffaton ('24),  speaks French at home daily. On French culture, Griffaton says "it's not all about food. There's not a whole lot of dependency on the internet. We play a lot of board games [with] people, especially within the family."
On food, Griffaton says that "One food-related thing I like is [how] there's always bread and cheese at every meal, breakfast, lunch, and dinner." 
Outside of class, Paul Griffaton gets involved with BHS Cross Country and Track, the Bothell Youth Court, the Mountaineers, and Scouts BSA. His favorite board game is Catan, and he's played Catan and Saboteur in France with his family. When it comes to the role the French language plays in his life, Paul Griffaton says "that French helped me connect with the family I have in France." He enjoys spending time with the cousins he has in France, and says "it's great to talk with and hang out with them."
French is a language spoken by hundreds of millions of people, a few of those people being some of our very own Bothell cougars. The language and its culture, history, and people deserve our respect. French is a language anyone can learn if they so choose. Connecting to French culture through language is one example of how language connects us as people. Happy National French Culture week! Et merci d'avoir lu (and thanks for reading)!
Leave a Comment