The Guide on Going Back to Theaters
Movies have been such an important part of my life. All the way from watching Winnie the Poo to John Wick, some of my favorite memories have been in a theater. When it was more recently taken away, I was seriously missing some good buttered popcorn. And according to 127/149 people at Bothell have not seen a movie recently in theaters. While some people might not be movie fans, hear me out, as I show you some awesome flicks that deserve a trip to the theaters. 
Godzilla vs. Kong: This movie is a perfect way to enjoy some alone time. This movie has certainly been in the making for a long time. These two colossus characters dish it out in a giant spectacle. No spoilers of course but the fights are certainly worth the money on this movie. Don't go in expecting the Godfather or Endgame but it is certainly an incredible movie to watch and worth it just for the epic neon city battles. When I was watching this movie it made me feel happy to be enjoying a mindless movie with a big bag of popcorn in my hand. Also, huge tip only go to AMC theaters and make sure you go to the Woodinville location. They also have $5 ticket Tuesdays so make sure to enjoy a reclining seat for cheap only at Woodinville.
Raya and the last dragon: This movie was quite honestly amazing. It is a great Disney movie but it goes beyond that. The incredible cinematography and action sequences make it a perfect movie for everyone in your family. It also ended the movie differently than most other movies. I do not want to spoil anything but the ending was satisfying to say the least. While Frozen is certainly the best for most people I would argue that this was a way better alternative to the childish aspects found in Frozen. This would definitely be my first choice if you want to see a movie again. 
Some people at Bothell have found fun ways to hang out with friends at the theater. Macy Wolfgang ('23) said, "I got a bunch of friends together and we rented out a theater to watch the Lorax! It was super cheap for only $100 and when you divide that by 15 people it was very affordable. Definitely worth it for a fun night out!" And most theaters have been showing private screenings of movies for affordable prices. They have shown movies like the Lorax and even Back To The Future.
With so many different streaming services it's no question that most people would rather stream then actually go out. But I strongly recommend going back for just one time. Seeing the movie in person and with friends can be a great way to socialize with friends. Another big fear for people is Covid-19 and they do have very strict rules about that. They have large amounts of sanitizer almost everywhere in the theater and they require masks while there. And yes there are people that choose to not wear masks the entire time (or they say they are eating) but spacing is everywhere in the theater with 1-2 empty seats surrounding your and their chair the entire time. So grab some amigos and go see a flick!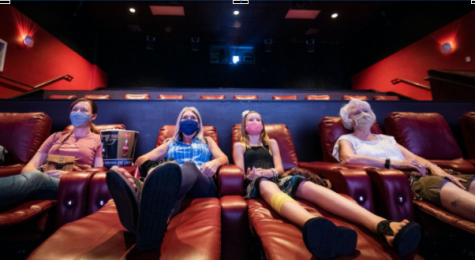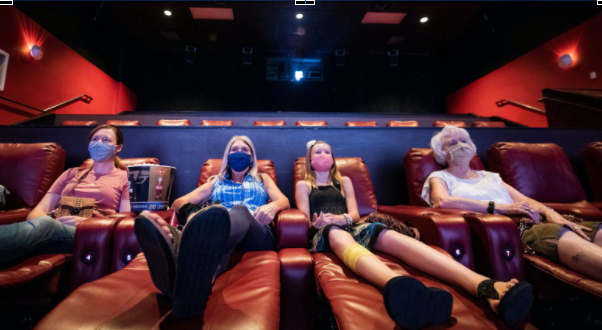 View Comments (1)