Students in the workplace – Target
Target is no doubt one of the best places to go when you need some awesome snacks! We also have many students at Bothell who have worked at Target and during our series of students in the workplace, we interviewed some of them for their unique perspectives on topics regarding school balance, COVID-19, and hiring process. 
One of the students, Josh Sieben ('22), has had a very wholesome experience at Target. He said, "I was stocking shelves, and these customers came by, and they said how thankful they were for me stocking shelves and how I was doing a great job. I felt so good afterward because I got recognized for something small that made an impact on them." Recognizing service workers is always important. Another student had more of a stu-pandas memory. "I don't have a favorite story but they (bought) us a Panda Express one day," said Kaden Allen ('22), another Target Employee. Some might think it's weird that we are eating Panda Express during a Panda-emic, but not Kaden!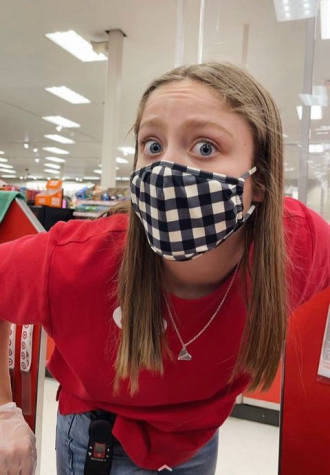 Puns aside, Tatum Powers ('22) had a memorable interaction with a customer regarding the pandemic. She said, "I once had a customer that came through my checking lane that was a nurse that had just gotten off work. I could tell he was tired and wanted a quick checkout. I asked him how his day was and he said okay and proceeded to go on his phone. I was sure he was a health care worker and wanted to thank him for his work at this hard time. So I asked 'are you a health care worker' he responded 'yes I am' so I thanked him for all his hard work and asked him how it is in the hospitals. He told me how stressful and sad it is. He told me how scary it is to go to work every day. He told me the unity the employees at the hospitals have to have right now to get through this hard time. It was a very eye-opening experience hearing all of that first hand."  It's so interesting to note that this interaction was at a local Target and how medical workers are struggling during this time. This is an important reminder to care about service workers in every aspect of your life. 
All students in the workplace are very enthusiastic about getting jobs, but what did the Target employees specifically think? Sieben said, "I would highly recommend that if you have extra time on your hands you should get one! Saving money is super important!" Powers also had a strong warning for students getting a job, "the long hours are worth it in the end for the reward of money and work ethic but at the time work was my priority over school, which is not a good thing. I feel I was asking for a lot more extensions on homework and not being able to pay attention in class because of how tired I was. Ever since the new year hit and people aren't holiday shopping I have been finally able to breathe and not have to stress about work all the time because I have been scheduled a lot less than before. It is hard working and being in school, but I think it's very rewarding in more ways than just the money. I think it's an experience every teen should have at least once in high school."
Kaden Allen was also employed as a seasonal employee, and after his reflection of leaving, he had both pros and cons from his time at Target. He describes, "the worst part of working there was things not being where they were supposed to be. Mostly there was always someone that I could ask for help with no penalty and I had a good time talking with people when I could!" Powers also was very energetic in saying, "If you are nervous about getting a job just remember in a month it will feel routine, your co-workers more likely than not are excited and willing to help new team members!"
Hearing students express their experiences can always be interesting to learn from and without these essential workers, we would not have such a fun Target! As I always like to do, I decided to have everyone share one word to describe their experience.
"Insightful" – Kaden Allen
"Responsibility" – Tatum Powers
"Rewarding" – Josh Sieben