An athlete's training and playing life during COVID-19
COVID-19 is obviously not ideal for anyone, especially athletes. A big question a lot of people have had is how do athletes stay in shape and continue developing? I myself am an athlete and would like to share my experiences throughout the past year. 
Before the first quarantine in March, I completely shattered my ankle. I had started physical therapy before everything started to close down, but PT eventually shut down. It got super tough on me trying to heal my ankle. I had to train myself how to walk, run, squat, pretty much anything that has to do with ankle movement, all over again. Eventually, it all came down to how bad I wanted to play. My desire soon took over to keep training every day. I started doing leg workouts every day until I was strong enough to shoot outside on my own. I would make 300 form shots a day on the basketball court. Once I was able to start running, I started shooting more game-like shots, I would make 500 shots every single day.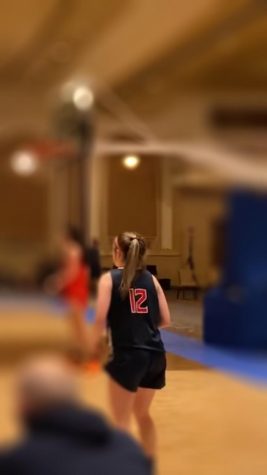 As soon as phase 2 started, the gym I was going to before quarantine opened back up. We had our temperature taken upon arrival, wearing masks entering and exiting, but while playing we weren't required to wear masks. The big court where people would shoot before was closed for 1 on 1 training. The capacity was limited and no one outside of your family could come into the facility.  
In the summer, I started to travel to play in some tournaments. The first one I went to was in Boise, Idaho. My dad and I drove down to the tournament to avoid flying. When it came time to play, there was a health check, and you were allowed 10 minutes in before your game. The bleachers and benches were sprayed down after every game and no one shook hands at the end of the game. After the game you went out the opposite door you came in. 
Then my club team traveled down to Arizona. We played in what they called a "bubble." Basically, we played at a resort the whole time and could not leave. I felt very safe playing in this tournament because it was very well run. More people in Arizona wore masks than in Boise, and there were fewer people in the gym. This made me realize how real COVID-19 was. Seeing something that used to be filled with lots of people and sounds had suddenly changed so quickly to only seeing a couple people in masks and it being almost dead silent was crazy to me. 
I asked Kenzie Kooy ('24), an athlete on Northwest Blazers Basketball Club, about how she felt about playing during a pandemic. She said that "I am not too concerned about getting [COVID-19] while playing basketball, I feel very safe while playing." She also told me that "I have a love for the game. I would do anything to play normally again." I also asked her if she did anything during quarantine to keep her skill up. "I just played by myself in my driveway and at the park." I know that there is a lot of talk about what return to play looks like, so I asked what she thought about the new rules. "I think we should not have to wear masks while playing, we are already all sweating in one gym. I also think that we should have a limited number of fans and parents in the gym because they are part of the game too. But regardless I would do anything to play my high school season." 
COVID-19 is not easy for anyone, let alone athletes. Training is hard during this time, but my passion for basketball has kept me going.