Munchies Review – Cinnabon
Cinnabon is the definition of pure junk food. The most classic roll has a total of 880 calories according to Cinnabon! 880 calories in a cinnamon roll! Now if you have never tried one of these rolls, you need to try it before you judge. The classic roll will run you about $3.75 which is very low for such a gourmet snack!
On Tuesday, I went to Alderwood mall and tried one at the Cinnabon near the Lego store, American Girl, and Auntie Anne's. My high metabolism might be the reason for indulging myself in this endeavor! I was expecting a lack of quality service, but I was wrong. When I asked for a Cinnabon, the lady was very nice and efficient! Then came the moment of truth, the taste!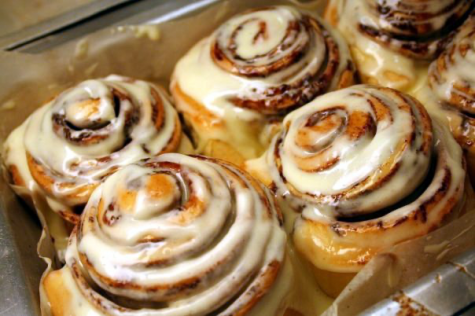 When I took my first bite, I immediately tasted the rich cream cheese icing that was both sweet and creamy at the same time. The pastry part almost melts in your mouth like liquid gold. The smell brought me back to memories of pastry shops from my childhood. My favorite part of the whole experience was definitely the center of the roll! Before I could take another bite the Cinnabon had disappeared into my stomach, almost like it never happened.
This was definitely a very interesting experience. While the busy noise of the mall was very distracting, it was nice to sit down and indulge myself. However, with such a high-calorie food, it was important for me to realize how unhealthy this roll was. While it was definitely delicious, I almost wanted to have a classic cinnamon sugar pretzel at Auntie Anne's for the same price and half the calories. Overall, I would give this 4 stars because it fulfilled my need for a sugary roll, but the sheer amount of calories is almost unforgiving.